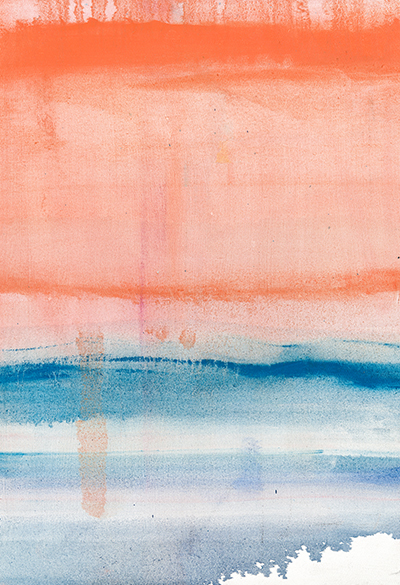 ORIGINAL & PRINTS AVAILABLE
Oil Stick & Oil on Canvas
The title of this piece pays homage to one of my favorite local events at one of my favorite places in San Diego—MCASD in Lajolla.  This was the last season of sunset celebrations before they closed for incredible renovation.  The colours are celebratory of the sunset and my experimentation is inspired by the work of one of my favorite Abstract Expressionist/Color Field Artists—Helen Frankenthaler. This is one of those pieces I cherish in print form because I was experimenting and came up with something that I would love to see bigger.
I used raw canvas, an upcycled piece, no gesso, and old stretcher bars.  I wanted to see how unprimed canvas would handle the oil sticks, rag rolling, with a lot of turpentine to thin out the paint for pouring and buffing to smooth out the colour.  I also used a drywall "hammer-end joint knife" to move the paint around after pouring.  I love the result and the colours are so close to that beautiful evening. It's a 16 x 20-inch piece that I keep carefully wrapped up until I learn more about how the raw canvas handles the oil.  This piece is not varnished because of its raw state, so while I experiment I hope to learn how Frankenthaler produced archival work so I can understand how to protect pieces on raw canvas as I look to other forms of treating canvas before applying paint.  I had so much fun I hope to start a 5' x 5' piece soon!
Prints available in all sizes and multiples, inquire here.