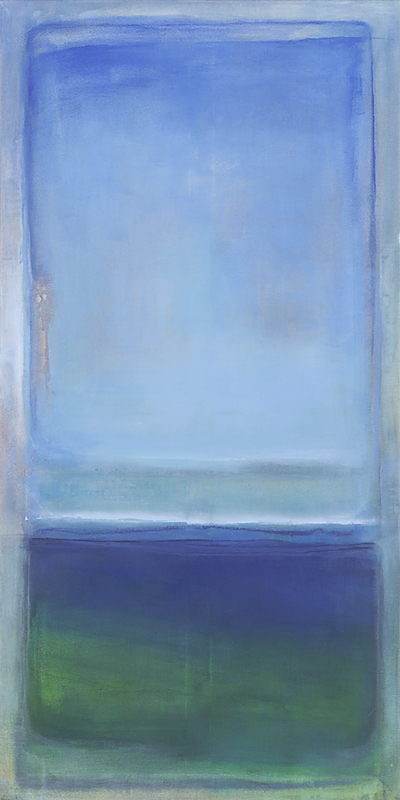 Acrylic on Canvas 2010
This is an abstracted view from atop the mesa at Torrey Pines State Park.  I love Beach Trail and I have painted there a lot: Bush Poppy, Late Afternoon on Beach Trail, Pine on the Bluff, and sketchbooks full of drawings and painting sketches are all a result of lovely days working out and about Torrey Pines is one of my favorite places to work outside.  I often take my backpack, my traveling sketchbox easel, supplies and go from early morning until sunset.  The colours and the view remind me of my first trip out to SoCal and how completely I fell in love with the beauty that is everywhere.  The views from atop the mesa are vast, wide open and breathtaking.  The colours change with every minute.  The water is spectacular, and there are stunning overlooks from peaceful trails.  This particular day I was out from early morning into evening, sunny, bright and clear I worked from a sketchbook coming back to my studio and setting up quickly, layering the cobalts, pthalos (blues, greens, and turquoise) and ultramarine, the blues and greens are like nothing I have ever seen so I could hopefully convey my gratitude that I can do what I love and do it from a place that cannot help but inspire!
Original SOLD
Prints available in all sizes and multiples here: custom orders available on custom surfaces – signed and numbered prints contact Art by Susan Stone for more info.
A print of this piece was on set of the movie 'Neighbors 2' with Seth Rogen, Rose Byrne and Zac Efron