I have been close to home for the past two weeks keeping a close watch on our beloved pup as she heals from a pretty invasive surgery. I've had time to think about the direction my work is heading, projects I want to share along with memories of all the brilliant artists – artists of all ages at all levels of expertise at various stages of creativity – that I have had the extreme fortune of working with. I read several books, checked out art sites and posts. I love anything that takes us outside and explores some element of nature. Recording the fast moving shadows at different times a day does not disappoint at any age. @stormkingart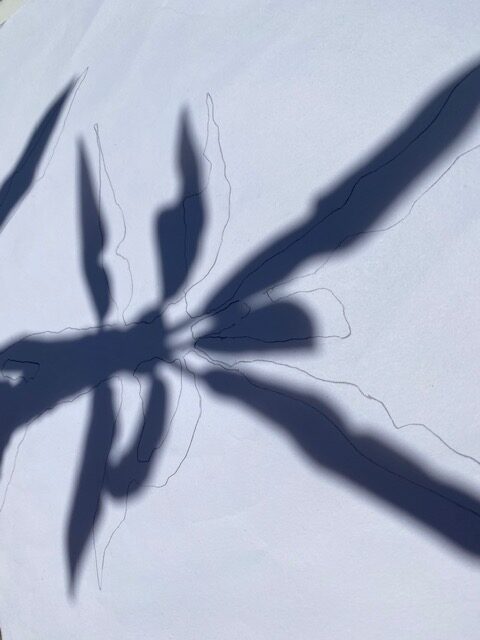 The first time I tried this with our beautiful Plumeria I had so much fun and it was a much needed way to be creative the first few days on pup watch. The piece on my easel right now is an oil 36 x 72 inches not gonna happen. Just outside the front door in the bright sun also much needed to distract myself from worry for our Lovie Oak. I felt that sense of taking it further, whether it works or not to see what can happen. Sharing knowledge does this to me. I believe one of the things that makes teaching so exciting is putting the work in to see what works, what doesn't. Sharing the "findings" and hopefully inspiring other artists to try something different or trying the same things with different results… and of course saving my sanity after sitting on my ass for two weeks.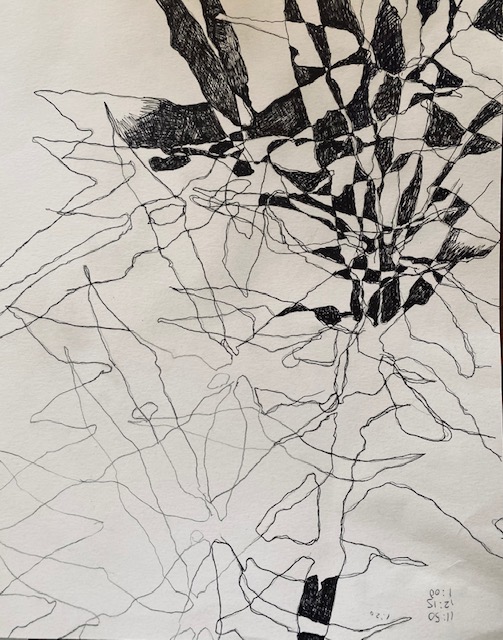 We grow if we take the time to experiment and completely abandon expectation. There is learning in everything we do; so of course I did many variations: shadows traced every 15 minutes, in the morning in the late afternoon, one just contour lines, one in pencil traced with a micron, one with micron filling in the shapes, an abstract with watercolor pencil & ink lines, another quick tracing with two or three passes trying not to overlap and filling in with India Ink and a bamboo brush. The acrylic on canvas was a little more strategic with crisp late morning shadows. That piece touches on repetition, balance, shape and positive / negative space.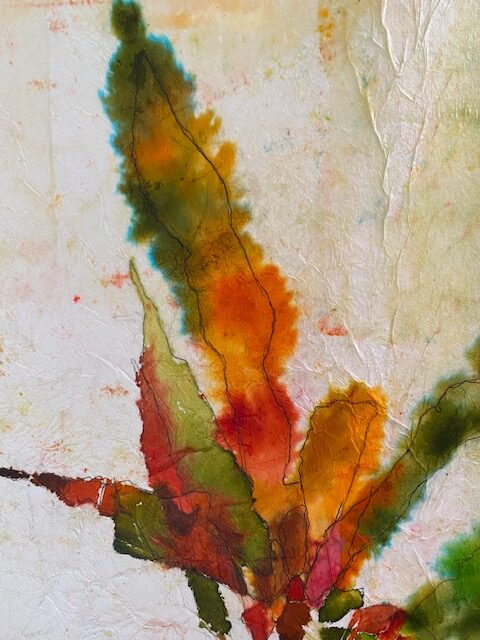 We have done great things with shadows together in all of my classes through the years. Sundials, self portraits in pairs – each artist tracing the other in poses going out early in the day for shorter shadows and later in the day for long shadows, then filling them in (see my facebook artist page) http://facebook.com/artistsusanstone. One year all the kids in the neighborhood traced each other's shadow on my back patio! It looked like a pastel portrait of the neighborhood! Like a party, a community snapshot! Happy Unofficial Summer!
For more instructional content and videos consider my painting class! Be sure to have a look at Huntington Beach Art Center's Summer 2022 Class and Event Schedule! Sign ups start Tuesday June 7th at 8am. Look for my color class: Thinking in Color: Abstract Expression with Susan Stone
Inspired by big open sky and vast horizons, join artist Susan Stone in an exploration of color. Utilizing a variety of expressive media, learn about abstract compositions while enriching your color knowledge through sketchbook exercises, paintings on canvas, and more. Learn about Color Field masters and find inspiration in the beauty of nature.
https://www.huntingtonbeachartcenter.org/adult–teen-classes.html