Mornings in May – Prints
$165.00 – $995.00
© 2023 Artist Susan Stone holds all rights to original art work and its images & variations.  NOTE:  Images shown are protected via watermark(s)
Shipping times will vary depending on:  Printing and Framing Backlogs, Shipping Carrier Backlogs, Type of Print Ordered, Location of Purchase.  At this time shipping in US and Canada can take from 14 to 21 days.  Please email if placing an international order as shipping will be paid by the customer as well as customs fees.
"Mornings in May" The original was an acrylic wash on canvas
Painted on an early quiet morning.   I hiked up a bluff in Torrey Pines with a spectacular view:  the sky heavy, dripping with marine layer, ocean crashes below – painting here was everything I thought it would be.  We are in the midst of May Grey as I write this and some people are always … "When are we going to see the sun!" and while I very much enjoy the sunshine and wait in anticipation of the fog dissipating, I LOVE the atmospheric quality of the fog at the beach in early the morning.  It's so peaceful and beautiful.  The light has such a softness, the salty air, I am reminded of Fleetwood Mac's 'Bare Trees' album cover art.  I actually had my canvas out on the bluff which is relatively easy to get to and set up my outdoor easel.   I dripped washes while turning the canvas, lifting out with a cloth to reveal the lighter washes underneath making the cloud shapes.  I also added a touch of cadmium light across the horizon as a bit of sun coming up in the east reflected on the surface of the water.  It was one of those mornings when you just look around and think … WOW I live here!  I think because I painted the canvas from every direction it seriously looks good hung at any orientation on the wall.  I abstracted the landscape completely by color.  I go back to that area often.  Just a few steps off the trail feels like I am a million miles away from chaotic distraction.
This piece is in many commercials and other versions of it are available commercially
https://www.ispot.tv/ad/A60W/chase-freedom-unlimited-everything-unlimited-feat-ellie-kemper
at the 00:18 mark on the viewers right side as she comes in the door.
https://www.youtube.com/watch?v=2SMFnHYZj50    at the end of commercial on the wall
SKU:

N/A
Categories: Acrylic Panel Prints, Canvas Gallery Wrap, Framed Canvas Prints, HD Metal Prints, Prints, Rolled Canvas Prints
Tags: abstract, acrylic wash, calming, canvas, color field, commercial, commercials, cool, expression, Film industry, framed, Green, hospitality, matted, movie sets, office, popular, print, residential, sea, sketch, sky, wall art, water
Description
The canvas is designed to meet art galleries' and museum's longevity requirements and ensure consistency of shades for up to 200 years old.  The printing process is Giclee with Pigment Ink on a Premium Fine Art Matte Canvas 410g/m2.
FREE GROUND SHIPPING on all orders, no minimum.  Please email if placing an international order as shipping will be paid by the customer as well as customs fees.
*Note due to the nature of the printing process, images shown here are approximate and some variations in the crop will occur.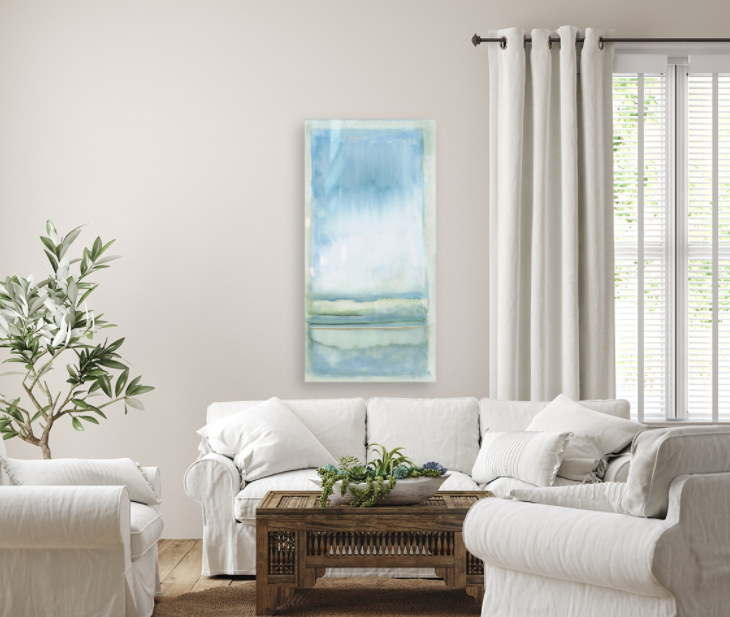 "Mornings in May"  by Artist Susan Stone – 24″ x 48″.  HD metal print shown
Additional information
| | |
| --- | --- |
| Dimensions | N/A |
| Size | 20×40", 24×48" |
| Media | Rolled Canvas, Canvas Gallery Wrapped, Framed Canvas, Metal, Acrylic |