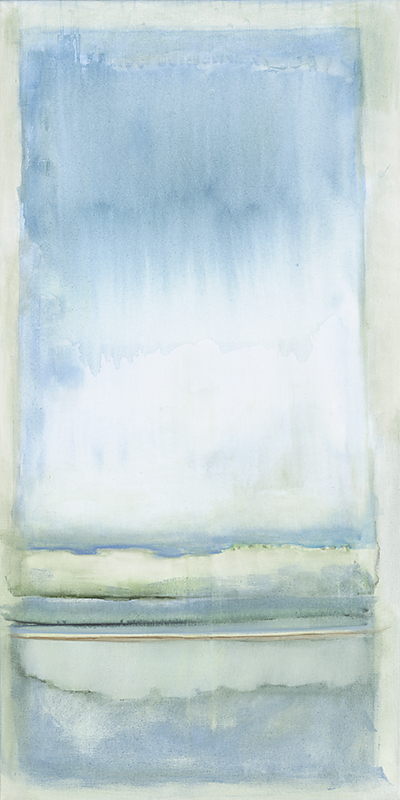 24"W x 48"H
Acrylic Wash on Canvas 2010
Painted on an early quiet morning amid the atmospheric fog at the beach in morning.  I hiked up a bluff in Torrey Pines with a spectacular view: the sky was heavy, dripping with the marine layer, the ocean crashing below – painting here was everything I thought it would be  It's so peaceful and beautiful.  The light has such a softness in the salty air an abstracted landscape completely by color.
I dripped washes while turning the canvas, lifting out with a cloth to reveal the lighter washes underneath making the cloud shapes.  I also added a touch of cadmium light across the horizon as a bit of sun coming up in the east reflected on the surface of the water.
Original SOLD.
This piece is in many commercials and other versions of it are available commercially
https://www.ispot.tv/ad/A60W/chase-freedom-unlimited-everything-unlimited-feat-ellie-kemper
at the 00:18 mark on the viewers right side as she comes in the door.
https://www.youtube.com/watch?v=2SMFnHYZj50    at the end of commercial on the wall